Medical Terminology Online Course Success Story 
Companies and organizations are still trying to figure out how to operate efficiently in today's turbulent economy. One thing we have noticed is companies seem willing to invest in their people so the company can do more with less. A cross trained, competent employee can accomplish more today than before. And investing in current employees means less money spent on recruiting, interviewing and training brand new staff. Also, most employees are excited to learn new skills and take additional courses, if the payoff is there, meaning a raise!
In the demanding world we live in, how is someone supposed to handle their responsibilities at work, deal with a family, have time for themselves and still continue their education? Online, self-paced learning seems to be a great solution. Here's how one former Wall Street employee used our medical terminology course to advance in the healthcare field!
***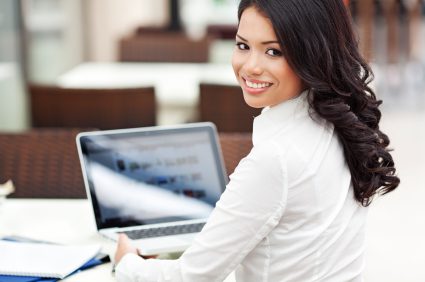 Diana is a full time employee at a medical center located in the Bronx, New York. Like many New Yorkers, Diana spent 16 years working in Wall Street but was downsized and had to find something close to home so she could still take care of her mother. The medical center was a great fit, and she has been working in the Medical Records Department for 10 years now.
Recently, two of her colleagues took our self-paced Medical Terminology online courses for advancement within the department. Coming from a financial background, Diana shied away from this option and thought that a medical terminology course would be too advanced for her. Her colleagues encouraged her and told her she could do it. The self-paced format would allow her to learn at her own speed, and she would have a full year to complete the course.  After some convincing, Diana started to look into the program. She soon learned her union would provide tuition reimbursement for the course since she had been a member for over 5 years. Now the decision became a no brainer!
In June of this year Diana registered for the Medical Terminology for Health Professions online course. She set aside time after work each night to move through the 15 chapters in the course. At first the medical terminology pronunciations were a little difficult for Diana. However, she utilized the audio feature and listened to the online program pronounce the words for her. She used the chapter tests, Word Parts test and comprehensive review and was starting to see great results.
Just 7 weeks later, Diana had successfully finished the course with a 90%. She was elated! She was able to submit her certificate for reimbursement and is waiting for the good news of her pay raise. Diana was thrilled with how the course went, "This has been a great experience and I really enjoyed the course!"
A wise man once said, "The man who thinks he knows everything, knows nothing." Continuing to learn and grow is the only way we will continue moving forward professionally and personally. Diana is a perfect example that with a little encouragement, perseverance and time, it is never too late to learn something new. Our Medical Terminology online course helped Diana reach her goals, what can our online courses do for you?
Other Topics Available Online & Self-paced:
Introduction to ECG, Clinical ECG and 3D Coronary Anatomy
Professionalism, Customer Service & Sales