Corexcel Participating in 4th Annual Small Business Saturday 
Small Business Saturday is a day dedicated to supporting small businesses across the country. Founded by American Express in 2010, this day is celebrated every year on the Saturday after
Thanksgiving. This year, Small Business Saturday is on November 30th.
Whether you're a student looking for a Medical Terminology or Anatomy and Physiology course to satisfy a college prerequisite or a current customer stocking up on DiSC profiles and business skills courses, visit www.corexcel.com for your needs! (Hint: We may even have a special promotion for our customers that day)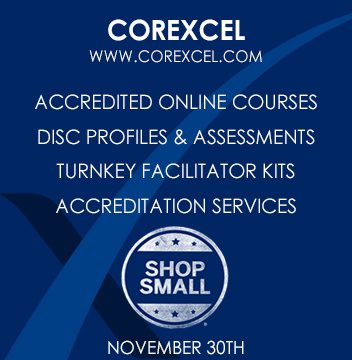 About Corexcel
Corexcel is certified as a small, woman-owned business by the State of Delaware's Office of Minority and Women Business Enterprise and is a Better Business Bureau accredited business with an A+ Rating. Corexcel specializes in providing innovative, affordable training and continuing education resources for both individuals and organizations of any size or industry, including:
Personal and Organizational Development Tools: Effective and easy to use DiSC profiles, employee assessments, training materials and online courses in areas like Project Management, Human Resources, Customer Service and Leadership.
Online Medical Courses: Self-paced, fully accredited, online courses in Medical Terminology, Anatomy & Physiology and ECG training.
Nursing Continuing Education Courses & Services: Online Nursing CEU courses, educational planning, development and accreditation administration for educational events.