How to Research, What to Look For and When to Ask for Help!
Whether you're looking for college credits, contact hours, a certificate program or another type of continuing education, you may be able to find the courses you are looking for online. However, there are risks involved if you don't do the right amount of research.
It's amazing that the Internet allows us to connect with people, information and news from around the world. With all of this information readily available, it makes sense that e-Learning has become increasingly popular. Let's face it: online courses are very convenient. You can go to school on your own time in the convenience of your home. Online courses can certainly save you money compared to community college and university courses. And, they are always there. Many of our students come to us stressed out that their prerequisite courses at school filled up before they could register. Most online courses are open enrollment, meaning that you can enroll when it is convenient for you.
With all of the benefits of e-Learning, does come some risks. While the information online is plentiful, no one monitors the web to confirm every piece of information is accurate. It's up to you to sift through the websites in order to find what you need.
With my help, you'll learn what questions to ask and what information to look for during your search for online courses, ensuring that your e-Learning experience is a good one! I've even included a Cheat Sheet to help you ask the right questions.
Ask for help
If you're looking for a course to fulfill a requirement for a Bachelor's or Master's Degree, certificate program or certification, the best place to start is with your school or organization. Ask your advisor or contact the registrar office for recommendations. They may have a list of approved online courses that they can recommend to you.
If your school or organization does not have a course they can recommend to you, that's okay. Don't get overwhelmed. You'll just need to do some research on your end. Ask your school what their requirements are for the course, and you can move on to the next step.
Conduct a Search
If you're looking for an online course that can help you make a career change then talk to people you know in the field or search the web for associations that represent professionals in your field. Often they can recommend the courses that will help you reach your goal. Although you may not have specific requirements to fill, you should still follow the steps below to ensure you are receiving the best training for your money.
Start with the Internet and use a search engine like Google. Try different key words in your search, as well. For example, if you are looking for an online course, you can search for the topic and include terms such as online course, online class, or self-study. The results may show different courses, which can help you find more options, faster. Once you've got a few options in mind, make note of the following items.
Company Info
Review the company's website to find out more about them as a company. Don't forget to check the company's FAQ's page. You may find that a lot of your questions can be answered there.
Conduct a search at the Better Business Bureau to find out if they are a member, and if so, what kind of rating they have. You can also see if anyone has issued a complaint against the company and if there are any outstanding issues.
Certificate vs. Certification
We at Corexcel are asked about certifications and certificates quite often. One thing to be aware of is that there is a difference between receiving a certificate and being certified. Most online courses will offer you a certificate of completion once you have successfully completed a course or a series or courses. A certification is usually granted by a professional association and often requires work in the profession for a minimum number of hours plus an exam. You must be wary because some organizations will claim that they have a certification available, but the certification isn't recognized anywhere. Do your research and ask other professionals you know for their guidance.
Course Length
You can tell a lot about the course by its length (or lack thereof). Ask the school or company how long you can access the course for and how long it typically takes students to complete. Typically, it is a warning sign if it takes you an extended amount of time to complete a certificate program or a very short amount of time to receive a large number of credits.
Cost
Another thing you may notice is if the course length and cost don't match up, or comparable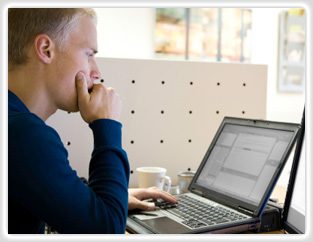 courses in length and quality are priced very differently. Ask them for a course outline, objectives or required assignments, if any. Then, find other courses similar in price and topic and see how they match up to each other.
Customer Support
Although the course is online, don't restrict your research to visiting the web. After viewing the website, make a call to their Customer Service Department. Use the cheat sheet to make sure you have asked the appropriate questions. See if the customer service staff are friendly, knowledgeable and can help you. You can tell a lot about a company by their level of customer service.
Accreditation
We get a lot of questions about accreditation, so hopefully I can shed some light on this issue. To become accredited, the company's courses must be reviewed by the appropriate accrediting body to make sure that it is upholding the standards set forth by that agency. For example, Corexcel is accredited by the International Association of Continuing Education & Training (IACET). This means that IACET has reviewed our educational standards and course development policies and procedures, and has made us an Authorized Provider of Continuing Education Units (CEU's). This means that we can offer CEU's for our courses.
If an organization is fully accredited, they should make that information very clear and easy to find on their website. There are many accrediting agencies out there for various types of credit. If you'd like to dig further, visit the accreditation agencies' websites to find out more on their standards.
The important thing here is to find out if the courses are accredited, by whom and what you receive (certificate, college credits, etc.) upon completing the course.
Double-check with your School or Organization
Although you may think you found a course that matches all of your requirements, we always recommend that you check with your school or organization to ensure they will accept the course prior to registering. Other companies and schools should do the same. While the courses may be fully accredited and offer college credits or CEU's, it is still up to your school to make the final decision if they will accept the course and for what particular requirement.
Ask for help… again!
If you find yourself confused or overwhelmed (or just need some reassurance), contact your school or organization. You can even ask a friend or fellow student who has recently fulfilled the requirement for their recommendation.
As promised, use this cheat sheet as a guide when speaking with your current school or organization and the potential organization you may be working with. Don't feel bad or embarrassed about asking questions.
If you have any questions about this topic or any of our online courses, please contact us via email at learn@corexcel.com or 1-888-658-6641 (Mon – Fri 9am – 5:30pm Eastern Time).