Our newest Everything DiSC feature report includes a FREE report designed to help facilitators, managers and coaches better understand candidates or current employees. We all understand the benefits of using DiSC in our hiring and training processes. Using DiSC in our organizations help us learn more about the participants and develop more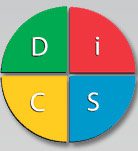 hard-hitting interview questions or more effective strategies for improvement.
This new, free feature report takes all of this a step further! 
Whether you're in the process of interviewing a candidate or looking to facilitate one-on-one meetings with your employees, the Everything DiSC Supplement for Facilitators is designed to help managers, coaches and facilitators learn more about participants' DiSC styles, prompting better interview questions and more meaningful discussions with employees.
This free report is a quick and easy review of your participants' DiSC style but takes it a step further by providing both the participant's scores in each of the DiSC styles and their unexpected characteristics.
To find out more about this brand new Everything DiSC feature, check out the full blog post on our DiSC Profiles blog.