The Five Behaviors of a Cohesive Team™
Based on Patrick Lencioni's
Five Dysfunctions of a Team
We're excited to announce that The Five Behaviors of a Cohesive Team™ individual and team assessment program is now available!
The Five Behaviors of a Cohesive Team is a new assessment-based program that helps teams identify what behaviors are standing in their way of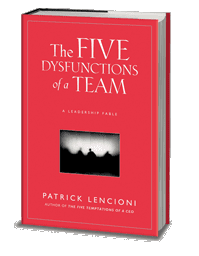 success. The program provides an effective, constructive platform for building a cohesive team starting with the foundation of building trust.
The brand new assessment and facilitation materials are a result of a unique partnership between Wiley's Workplace Learning Solutions Group and Patrick Lencioni, author of the best-selling book, The Five Dysfunctions of a Team. Powered by Everything DiSC, team members learn more about their DiSC styles, while the facilitation program guides them through The Five Behaviors model.
"Patrick Lencioni says it best," says Sue Bowlby, President of Corexcel. "'Not Finance. Not strategy. Not technology. It is teamwork that remains the ultimate competitive advantage both because it is so powerful and so rare.' Like many, I have seen firsthand the destructive power of a dysfunctional team and the positive power a cohesive team can have on results."
For more information and pricing on The Five Behaviors of a Cohesive Team, please click here or  contact Corexcel at 1-888-658-6641 or learn@corexcel.com.
Corexcel is proud to be an Authorized Partner of The Five Behaviors of a Cohesive Team, a Wiley Brand.