Your group at-a-glance
The FREE Everything DiSC Team View Report gives you a quick, colorful and easy-to-remember snapshot of your team's individual DiSC styles. Each of your staff members are represented by a colorful Everything DiSC circular map. The Everything DiSC Team View is great for leaders on a budget or with little time to review a detailed Group or Facilitator Report.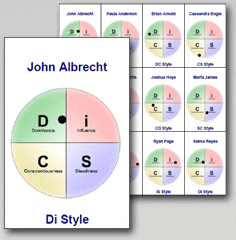 There is no limit to the number of people that can be included in the Team View report.  Just choose your participants and generate the report! Staffing changes? No problem. Since the reports are FREE, you can generate them anytime.
Everything DiSC compatibility
You can generate an Everything DiSC Team View report to include anyone who has taken
an Everything DiSC profile including:
EPIC Users
Get started using the Team View reports right away! Login to EPIC.
Steps for generating a Team View
Create a new report/access codes like normal.
Choose Everything DiSC as the product family.
Choose Everything DiSC Team View.
You'll be prompted to participants who has taken an Everything DiSC profile.
Not an EPIC User?
Read more about EPIC Accounts and access our Demo Account.
Username: corexcelonline
Password: Demoacct20