(The Wall Street Journal, October 26, 2011) 
Here's a pop quiz: What foods are best to eat before a high-stakes test? When is the best time to review the toughest material? A growing body of research on the best study techniques offers some answers.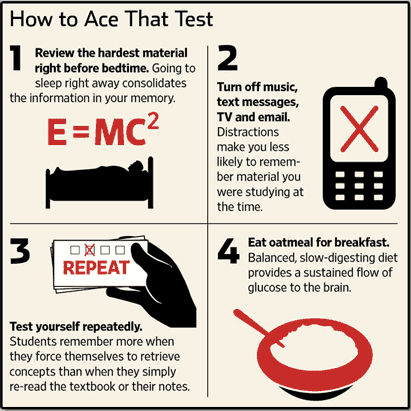 Chiefly, testing yourself repeatedly before an exam teaches the brain to retrieve and apply knowledge from memory. The method is more effective than re-reading a textbook, says Jeffrey Karpicke, an assistant professor of psychological sciences at Purdue University. If you are facing a test on the digestive system, he says, practice explaining how it works from start to finish, rather than studying a list of its parts.
In his junior year of high school in Cary, N.C., Keenan Harrell bought test-prep books and subjected himself to a "relentless and repetitive" series of nearly 30 practice SAT college-entrance exams. "I just took it over and over again, until it became almost aggravating," he says.
Continue reading the full article at The Wall Street Journal's website.
Leave a comment! 
What study techniques work for you?