Our customers are always asking us how they can improve their recruiting efforts and hiring process in order to obtain the best talent available. Although the unemployment numbers remain high, cultivating the best fit for your company is still a difficult task.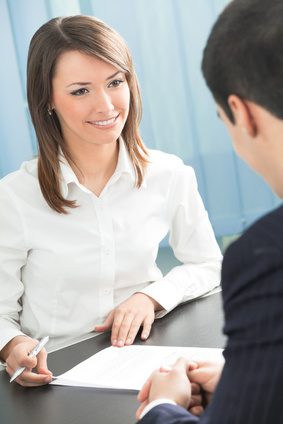 While the hiring and interview process can become lengthy and detailed, it's important to stick to the basics when it comes time to hire someone new.
Check out the following five steps to improve your hiring process and recruit all-star talent.
Ask your staff for their input. Your staff, especially those who have been successful in the position before, will have some great insight on what skills are necessary for someone to be successful in the role you're trying to fill. Make sure you ask them for their input before developing a job description and list of qualifications.
Perfect the job description. Based on the feedback that you receive, revisit your job description to make sure that it's clear, concise and accurately describes the duties involved. With new Internet sites popping up daily, be sure you investigate the various job search sites out there and determine where your intended candidates are applying. Be sure to include popular keywords that applicants may use to find a job. And, of course, be sure to get the word out there that you're hiring through Facebook, Twitter, LinkedIn and other social media outlets.
Hold high standards. While you do not want your job application to be too difficult to complete, make sure there is some degree of difficulty to submitting a resume. This can be requiring a cover letter, creating an online job application or including several qualifying questions that the participant must answer to complete the process. Then, talk with those reviewing the applications to make sure you're on the same page. Discuss passing scores for any qualifying questions or "deal breakers" within the application or resume. This will ensure that you're all looking for the same qualifications and will make the interviewing process easier and more effective.
Get the most out of your interviews. Make sure your interview process is well-structured and organized. Whether your organization prefers group interviews or a step-by-step process including phone & individual in-person interviews, make sure your interview process is well documented and structured. You'll also want to make sure that everyone involved in the interviewing process are up-to-date on pre-employment regulations and are familiar with successful interviewing strategies. This can be as simple as enrolling staff in online courses specific to employee selection. Finally, you may want to consider implementing a DiSC profile or other assessment to gain more feedback on the candidate. Although behavioral assessments should NOT determine the final hiring decision, they will provide you with great insight on each candidate and will help you address possible concerns.
Evaluate Your Processes. Be sure you evaluate your hiring and interviewing process at a time that is convenient for you. Whether it is right after you fill the position or before you begin hiring for another, revisit your processes and determine if any changes need to be made. Don't be afraid to try new websites and interviewing techniques. You may notice that some strategies work better for certain positions or experience levels than others.
Related Products & Courses:
DiSC Profiles
Online Management Courses
HRCI-Approved Human Resources Courses