Asean Johnson: An Inspiration in Elementary Education
If you watched the news this weekend, you may have seen Asean Johnson, the 9-year old boy who became the youngest speaker to step in front of the microphone at the 50th anniversary of the March on Washington. Asean, who marched "for education, justice and freedom," inspired thousands who were gathered around the national mall on Saturday as he proclaimed, "Every child deserves a great education!"
Earlier this year, Asean was instrumental in the fight to sustain his elementary school when the Chicago Board of Education voted to close 50 schools. The video of Asean making his impassioned plea to the school board went viral in May 2013. Asean won the battle when his elementary school was spared from closing, but he still continues to fight for the rights of children everywhere stating,"I encourage all of you to keep Dr. Martin Luther King Jr.'s dream alive. Help us fight for freedom, racial equality, jobs and public education because I have a dream that we shall overcome."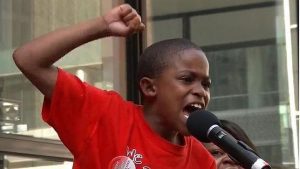 It is inspiring to hear this young boy declare education to be of great importance in his life; especially when it is estimated that there are more than 3 million illiterate adults in the United States today.
Although I was a good student and mastered mostly A's, I can't say I was a great student. Most classes just weren't fun for me. I felt as though I was listening silently as teachers spoke for hours on dry, boring topics.
However, since my school days, I have seen the emergence of new and improved ways to enhance educational opportunities. The internet has opened giant doors in developing content that is immediately available and varies based on educational style. I for one, am a visual learner, which means I grasp new concepts more readily if I can see, hear or touch things. Gone are the days of dry lecture-type presentations or reading from musty textbooks. Today's learner uses things like video, Skype and interactive online exercises to enhance learning experiences. And, virtual classrooms and webinars allow for group collaboration and networking.
Recently, I completed one of Corexcel's online business courses and was excited to see that the learning segments were highly supplemented with interactive exercises and sample questions to help reinforce the material. This fed my need for "seeing and doing" in order to retain the content. Perhaps it is tools like this that can reignite the "fun" in education and inspire more children, like Asean, to look at education as a priority.
Asean is a bright little boy, wanting to be a professional football player when he grows with back-up plans to be either a lawyer or scientist. Keep studying, Asean, and you can be anything you want to be!