The 8 Keys to Success: Educational Assistance for Veterans & Transition into the Workforce
Earlier this month, President Obama introduced the 8 Keys to Success at the Disabled American Veterans National Convention in Orlando, Fl.  This is all part of Obama's effort to support post-secondary education and help veterans transition into the classroom and succeed in the workforce.
The 8 Keys to Success were developed with one goal in mind: to foster veterans' success in the workforce through educational opportunities and support. The 8 Keys to Success are a combination of ED expert research, discussions with stakeholders (including non-profit organizations, foundations and veterans' service organizations) and feedback from veterans who had recently completed post-secondary education themselves. The ED and VA then compared this data to best practices from existing "Vet Success on Campus" programs.
"This is a major step forward in the administration's work to encourage institutions of higher education to support veterans with access to the courses and resources they need to ensure that they graduate and get good jobs," said U.S. Secretary of Education Arne Duncan.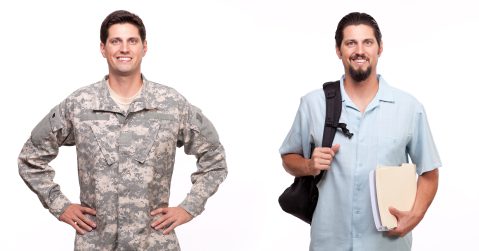 The 8 Keys to Success are:
Create a culture of trust and connectedness across the campus community to promote well-being and success for veterans.
Ensure consistent and sustained support from campus leadership.
Implement a system to ensure all veterans receive academic, career, and financial advice before challenges become overwhelming.
Coordinate and centralize campus efforts for all veterans, together with the creation of a designated space (even if limited in size).
Collaborate with local communities and organizations, including government agencies, to align and coordinate various services for veterans.
Use a uniform set of data tools to collect and track information on veterans, including demographics, retention and degree completion.
Provide comprehensive professional development for faculty and staff on issues and challenges unique to veterans.
Develop systems that ensure sustainability of effective practices for veterans
Already, more than 250 community colleges and universities in 24 states across the country have adopted
"This commitment made by colleges and universities will help veterans better transition from military service into the classroom, graduate and find a good job to help strengthen our economy," said Secretary of Veterans Affairs Eric K. Shinseki. "Given the opportunity, veterans will succeed because they possess exceptional character, team-building skills, discipline and leadership."
Veterans and the Healthcare Field
These keys will help veterans successfully enter into high-growth sectors of the economy like healthcare. To date, 38 states have passed laws removing barriers to service members and veterans earning state licenses, especially in the areas of emergency medical technician, paramedics, commercial driver's license and licensed practical nursing.
We at Corexcel are proud to have partnered with the VA for several years. Together, we have helped over 400 veterans access online, self-paced courses in preparation for beginning a career in the healthcare field. Most of these veterans completed Anatomy and Physiology, Medical Terminology or ECG.  Many of them took the courses preparing to work in medical administration or as emergency medical technicians, paramedics and nurses.
If you are a veteran interested in our online self-paced courses, you should talk with your Department of Veterans Affairs Vocational Rehabilitation and Education Counselor or your Department of Labor, Veteran's Employment and Training Services Counselor.
Helpful Resources: 
List of colleges and universities working to implement the 8 Keys to Success
Fact Sheet: The Obama Administration's Work to Honor Our Military Families and Veterans
Medical Terminology Online Course
Anatomy & Physiology Online Course